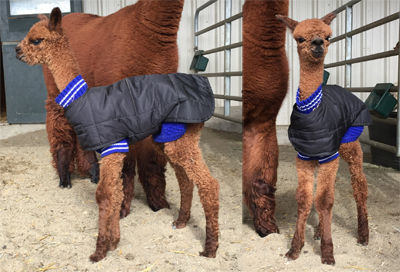 We are not normally in the habit of making frequent birth announcements here at CCNF Chronicles for the simple reason that if we did so regularly, this blog might be little else, what with 70+ little farts being born here each year. However, it is not everyday that the cria in question is the full baby brother of CCNF Leviathan, our former Champion male now owned by our friends at Stillmeadow Farm!
Given that yours truly brought their sire, Elixir, all the way back up here from our partner's farm in Maryland by special appointment for a last gasp, 3 day mid-November love tryst, after Leviathan's dam, Capuchin, had slipped her original pregnancy last year – the arrival of this little package of alpaca awesomeness makes all of that driving more than worthwhile. Though it's obviously nice to see out the end of the birthing season with a bang (only one pregnant mama left!), Capuchin is now being held open to get back onto a summer schedule and be in sync with Elixir's regularly scheduled reappearance here at his birth farm around July 1st of each breeding season.
Some matches just work and apparently Cappy and Elixir's genetics really, really like each other. Death, taxes, and CCNF will be trying to make Leviathan 3.0 next summer. In fact, given AOA's newly adopted regulations on embryo transfers, we will probably be trying to make a few!
Will this little dude — who has been provisionally named CCNF Sentinel — turn into his older sibling? As Graham Chapman of Monty Python once famously pointed out, it might be bit early to go imposing roles on him…Yet all early indications are very positive. Time will reveal all of course. 🙂
Follow me on Twitter @CCNFalpacas